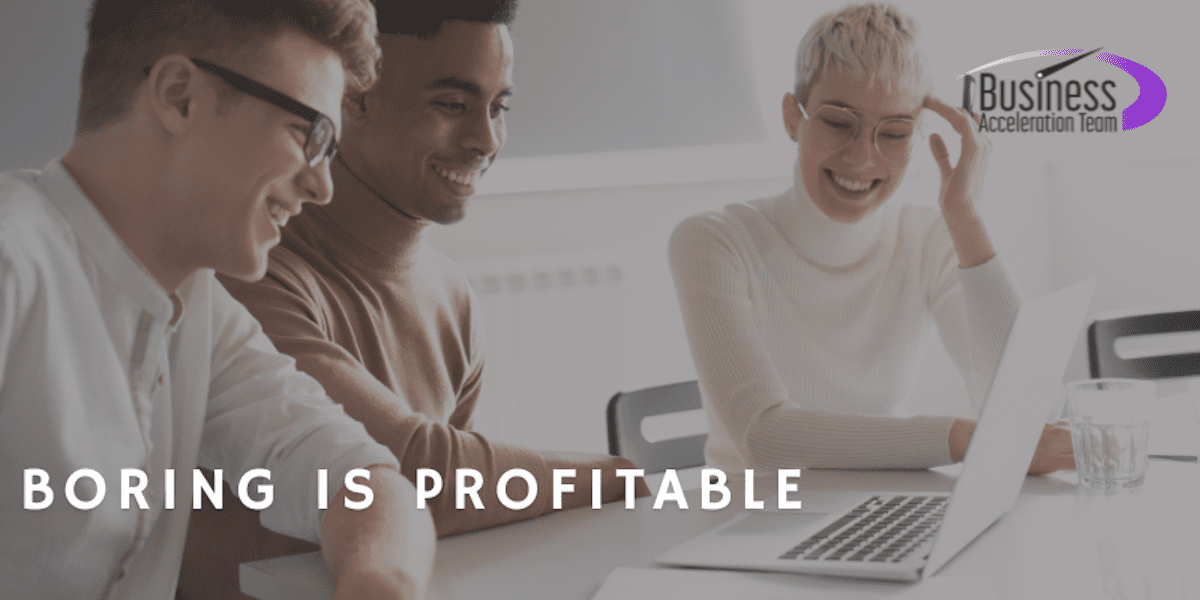 19 Dec

Boring is Profitable | Business Acceleration

This month, we are sharing another blog post from Eric Knam with ActionCOACH Tulsa. Eric is a certified business coach providing business help, advice, and mentoring services to small and medium-sized businesses. We've watched many of our business colleagues move from working IN their business to working ON their business, enjoying the perks of being the boss as a result of partnering with Eric.

Keep reading to learn more about how some of the most boring aspects of business ownership are often the most profitable!
Boring is Profitable
Let's face it, facts and data are not the most exciting things you deal with as a business owner. Very few of us like to crunch the numbers and those who hate it will often find any excuse to avoid doing so. The problem is, that when you ignore the numbers, it impacts your ability to make good decisions.
Having access to accurate and up-to-date data is critical for those who want to grow their business. Without knowing your trends, it's very difficult to determine marketing strategies, identify and recognize top performers, and make quick adjustments to your action plans. There are so many different numbers you can track that it's hard to know where to begin.
Knowing your financial metrics and data has got to be your starting point. Just because you had a big sale or your best revenue month ever, it doesn't mean there will be money in the bank at the end of the month!
Here are some key numbers you should know as a business owner:
How much money did the business make? (TOTAL REVENUE)
How much money did we spend? (TOTAL EXPENSES)
When all was said and done, how much money was left? (PROFIT)
What percent of sales is profit? (PROFIT MARGIN)
Cash on Hand or Cashflow
Equity
Debt and Debt Ratio
Tax Rate
Account Receivables and Payables
Total Inventory
Net Income
Depending on the needs or nature of your business, you may need to look at many of these numbers on a daily or weekly basis. At a minimum, you should review them monthly.
If you struggle with your financial numbers or put off updating them, get help now! There are plenty of qualified accountants and bookkeepers who would be more than happy to help you. A word to the wise here, don't skimp on this service. The "low-cost option" bookkeeper or accountant usually isn't the best route to take. I've heard multiple stories from business owners who spent a lot of money to get their books fixed because the "good deal" they got on bookkeeping was too good to be true.
Knowing Your Online Metrics
If you have a website, social media, and other digital marketing (in this day and age, you should), you'll need to know your online metrics as well. Being aware of the following metrics will help you identify opportunities, increase the awareness of your brand, and adjust or maintain the course your marketing takes.
Website Unique Visitors
Website Bounce Rate
Time Spent on Website
Number of Sessions for Unique Visitors
Pages on your Site with the Most Activity
Social Media Engagement/Reach
New and Existing Followers
Likes, Shares, Comments on Posts (Engagement)
Video Views
Which Posts had the Most Engagement
A business without any customers isn't much of a business, so it's really important to track the activities you are using to generate leads. Knowing what strategies are working and which ones don't allow you to maximize your spending on the activities that are driving people to you. Make sure you are regularly checking the following numbers:
Number of Qualified Leads
Source of Qualified Leads
How Much Each Qualified Lead Cost You
The Percent of Qualified Leads That Become Your Customer
Once you have a new customer, you must keep them. Happy customers come back, and they tell their friends about your business! Some customer experience indicators you should track are:
Customer Retention or Repeat Visits
Average Sale
Number of Transactions
Number of Items Purchased per Visit
Lifetime Value of a Customer
Customer Count Per Day/Week/Month
Number of Five-Star Reviews
Net Promoter Score
The 5-Ways Formula
Here's the really cool part. When you know these numbers, you can use them to increase your revenues and your bottom line!
At ActionCOACH, we like to plug them into a formula we call the 5-WAYS. It allows you to use this data to set specific strategies, using your data to make more money…see, boring is profitable!
The 5-WAYS formula is:
Number of LEADs x Conversion Rate = Number of Customers
Number of Customers x Average Dollar Sale x Average Number of Transactions = Revenues
Revenues x Profit Margins = $ Profits
The interesting thing about this formula is that the Number of Customers, Revenues and Profits aren't the most important focus, they are the results from the other numbers. The areas that really make the difference are your number of leads, average sales, number of transactions, conversion rate, and profit margin. 
If you'd like some specific and effective strategies you can use to significantly improve your business' profitability and growth, check out this easy-to-use chart: AC-19-5 Ways Handout-US-E
Knowing the important numbers for your business gives you a leg up on your competition. Anytime you hear someone call you boring because you track your data, you can just smile…all the way to the bank!