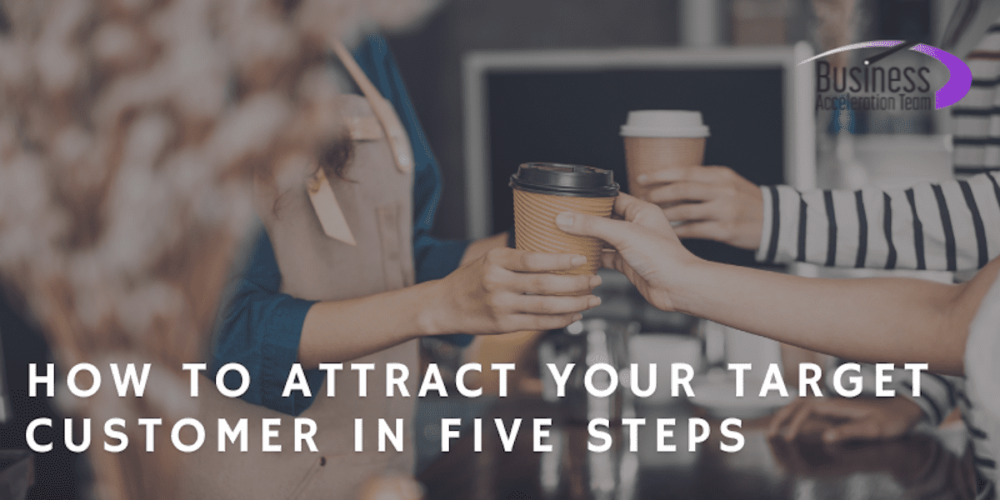 19 Dec

How to Attract Your Target Customer in Five Steps

This month, we are sharing another blog post from Eric Knam with ActionCOACH Tulsa. Eric is a certified business coach providing business help, advice, and mentoring services to small and medium-sized businesses. We've watched many of our business colleagues move from working IN their business to working ON their business, enjoying the perks of being the boss as a result of partnering with Eric.

Keep reading to learn more about how to attract your target customer!
Five Steps to Get Your Target Customer to Raise Their Hand | Action COACH
Does it seem like it's getting harder and harder to attract the attention of potential customers? If your answer is yes, it might be worth looking at how you are approaching them.
In this digital world, we often forget to begin a dialogue with our target customers. Instead, we immediately focus on trying to sell them something and skip right over the getting to know you phase. Learning what they need and identifying how your product or service might bring value to them is a key component in creating a relationship that leads to the sale.
Think about that used car salesman who doesn't even give you time to get out of your car before he starts pushing you toward a vehicle that doesn't even interest you. How likely are you to hang around to hear what he has to say? Not very! A better approach might be to engage your target audience by asking them to 'raise their hands'. So how do you get them to 'raise their hands'?
Step One: Identify Who Your Target Customer Is
Defining who you wish to serve is vital to the success of your marketing initiatives. The more targeted you can make your message, the easier it will be for your ideal customers to find you. To start, create a list of your ideal targets. Start with a broad scope, then narrow it down until you are super focused on one specific target group.
Here's an example:
Broad Category
Someone who owns a business
Narrow Category
People who own bakeries
Super Targeted Category
Female Bakery Owners
Defining your target audience will allow you to dial in on their pain points.
Step Two: Figure Out a Problem With Which They Struggle
Google has made this pretty easy to do. Just look at the different search trends, habits, and activities for your targets. Then, focus your content creation on the challenges they are facing. If female bakery owners are having challenges hiring or creating reliable supply chains, figure out what you can offer to them that would cause them to engage with you
Perhaps your research determined that several female bakery owners are looking for additional finance options so they can develop reliable supply chains. Now you can create content that helps them find new finance options, provide different financing resources, or highlights best practices for those looking for additional funding.
Step Three: Create Content in Multiple Forms
Writing a long-form blog about the issue is a great place to start. You can then break the content down into smaller posts. Use the information from your research to create infographics. Record and post videos that highlight what you've discovered.
Offer a free checklist or tip sheet filled with best practices. You can also save yourself some time by sharing articles or other resources that were created by someone else.
Step Four: Don't Give Everything Away at Once
A lot of people create their content, post it, and then hope for the best. Here's another option to consider. Post only the headline of the article you found with the following message:
"I just read a great article on (TOPIC) if you'd like more information or the link, type (WORD OF CHOICE) in the comments."
Now your target audience has the opportunity to 'raise their hands', which will allow you to start a conversation. Their activity will also boost the engagement of your post. You might also consider asking anyone interested to DM or private message you to get the link or content.
Step Five: Respond Quickly
You must respond promptly to all messages, reactions, and requests to keep the engagement on your post high. This also provides you a great chance to continue building your relationship by asking more questions.
It's important to vary your content and posts. Everything you put out doesn't need to have a 'Raise Your Hand' goal. Make sure you are also putting out content that will educate, entertain, or inspire your audience. This will ensure that you are offering multiple ways for your audience to engage with you. Mixing up your content will help you keep your audience interested.
Here are some additional types of content to consider:
Write a Blog
Create Your Own Video
Interview Customers or Subject Matter Experts
Develop Infographics
Share Tip Sheets or Checklists
Post White Papers
Offer E-Books
Post Links to Articles
Providing value to your target customers is always a great way to get them engaged in a conversation. Once you have their attention, focus on their needs, then help them understand how your service or product will better their lives. Once you do that, the rest should be easy.