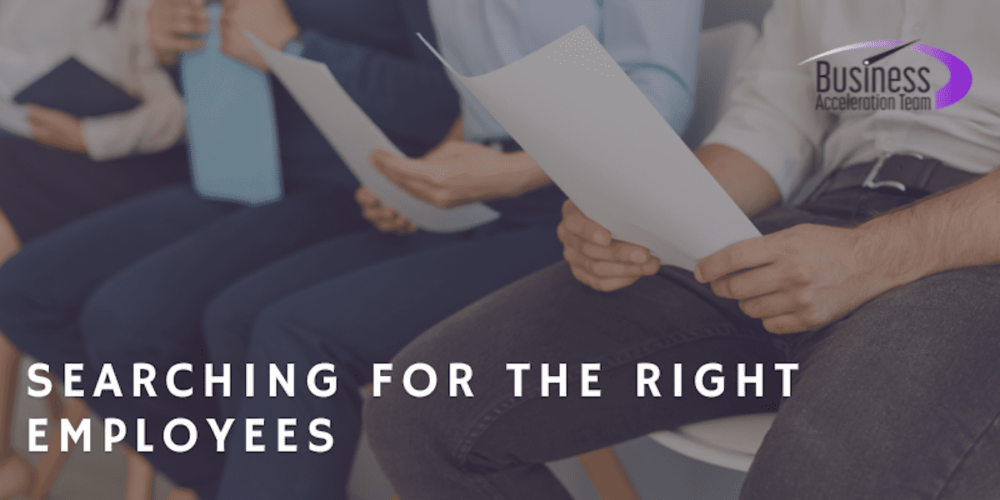 19 Dec

Searching for the Right Employees with Eric Knam

This month, we are featuring Eric Knam with ActionCOACH Tulsa. Eric is a certified business coach providing business help, advice, and mentoring services to small and medium-sized businesses. We've watched many of our business colleagues move from working IN their business to working ON their business, enjoying the perks of being the boss as a result of partnering with Eric.

Keep reading for a few great tips on how to find the right employees in the current hiring climate!
Searching for the Right Employees with Eric Knam | Action COACH
Searching for the right employee can be a little like trying to find Waldo. The job market has shifted significantly since the pandemic. As a result, people don't look at or evaluate job opportunities the way they did a few years ago.
We won't get into all the factors that are leading to this change. Instead, let's focus on the outcome. The hiring pool is now more like a hiring puddle and finding great employees will probably be challenging for quite some time.
The current hiring climate is becoming more and more like spending your time in a "Where's Waldo" book. Unfortunately, the book is now "expert" level and we don't see him anywhere.
We're so frustrated, that we just start flipping pages (posting on multiple job sites, using social media, now hiring signs, and anything else we can think of that might make a difference) hoping to catch a glimpse of him.
Then, just when we think we might have found our Waldo, it turns out they've already accepted another job, or worse, they don't even show up for their interview and now we're back to page one!
In a recent advice article on macslist.org, Abby Engers points out three things we should understand about the changing workforce.
Demographics Have Changed
Currently, Millennials make up ~35 percent of the U.S. labor force. By 2030, they will make up 75 percent. And remember, the youngest of this generation (b. 1996) are 23 and mostly in the workforce
already.
The changing demographics are less about the number of Millennials entering the workforce and more about the number of Baby Boomers and Gen X workers retiring.
It's a Candidate's Market
To attract and retain stellar employees, companies will need to do a better job highlighting the benefits of their company and the roles they're looking to fill. This means focusing on their culture, total compensation, and developing existing employees.
Traditional Career Expectations No Longer Exist
The traditional career ladder has broken; only 19 percent of companies still have them. A career has become less about a steady progression upwards and more about developing skillsets that can translate into many different opportunities.
Companies looking to retain their employees should focus on developing them through stretch projects, lateral moves, continuing education, rewards, rehiring alums, or other avenues that allow employees to grow.
As you work to attract the candidates you desire, keep these things in mind:
Get the Word Out
You've got to market your open positions. One
way to do this is to take full advantage of your network. Make sure e
veryone you know is aware that you are hiring. Give them a clear
understanding of your ideal employee and how they can get in touch 
with you.
Share your Employee Value Proposition
An EVP helps your ideal
candidates determine if working for your organization will provide
them with the benefits and opportunities they want from an
employer.
Keep Your Core Values at the Center
You want employees who
align with the organization's culture. Make sure candidates are
exposed to your values repeatedly as a part of your hiring and
onboarding processes.
Move with a Purpose
Gone are the days of long, drawn-out hiring processes. Good candidates are being snatched up at a record pace. Don't miss out on them to competitors who are moving faster.
Show Them You Care About Them
Give them regular training and education. Make sure they have access to forms of technology that will improve their work/life balance. Provide them flexible benefits. Do all you can to show that the people in your organization are its most valuable asset.
Quality candidates will also be doing their research on you. Your social media profiles, Google My Business Page, and website should all be up to date.  
Every interaction a candidate has with your business will make an impression on them. You want them all to have nothing but great things to say about you, even the ones who don't get offered a job.
Finding your Waldo can be expensive and take some time. Make sure you balance your speed and efficiency with due diligence. Conduct background checks, assess skillsets and aptitude and call references. Hiring the wrong person can set you and your organization back significantly.
It's better to pass on a lackluster candidate pool than to take the best option from it. Remember, your Waldo is out there, you just have to be willing to look as long as it takes.