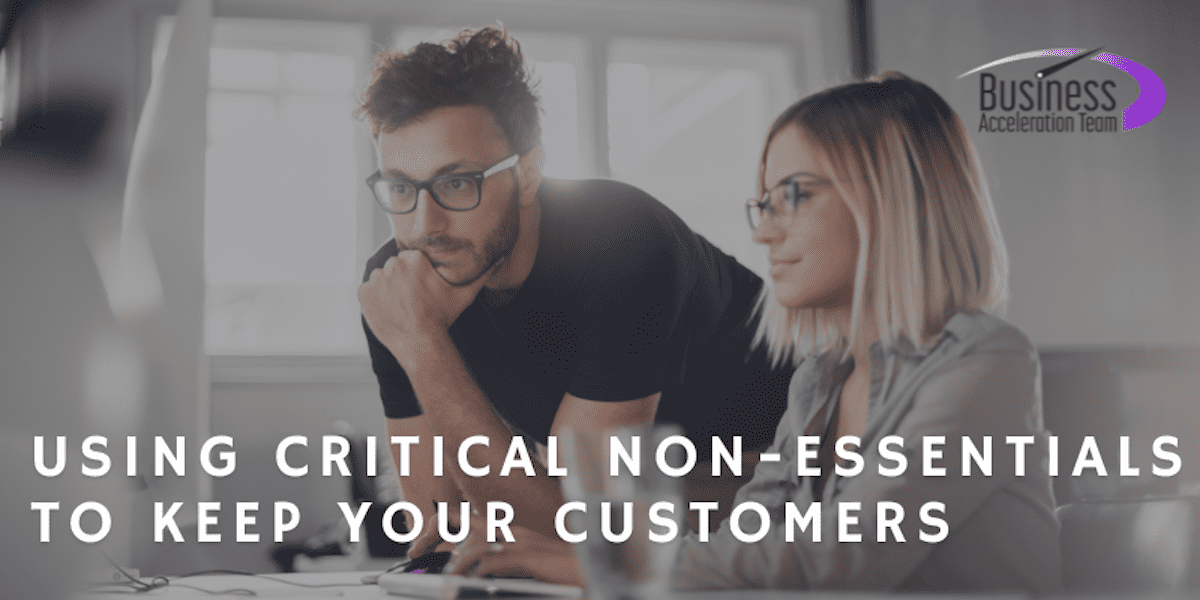 19 Dec

Using Critical Non-Essentials to Keep Your Customers

This month, we are sharing another blog post from Eric Knam with ActionCOACH Tulsa. Eric is a certified business coach providing business help, advice, and mentoring services to small and medium-sized businesses. We've watched many of our business colleagues move from working IN their business to working ON their business, enjoying the perks of being the boss as a result of partnering with Eric.

Keep reading to learn more about how to keep your customers using critical non-essentials!
Looking for Ways to Keep Your Customers? Try Using Critical Non-Essentials | Action COACH
As business owners, we tend to put a lot of time, effort, and money into attracting new customers. Unfortunately, we don't always do the same when it comes to keeping the ones we already have. Every day, your clients are inundated with more and more options when it comes to where they can spend their money. That's why it's so important to build meaningful relationships with them. If they don't feel appreciated and valued, what's to keep them from taking their business somewhere else?
When a customer leaves your business, the impact isn't just short-term. "Loyal customers generate more revenue each year they stay with a company. Statistics indicate that a 5% increase in customer retention increases profits by 25% – 95%" (Markinblog.com, 2021).
The reason is simple. Your current customers are way more likely to buy from you again. "The probability of selling to an existing customer is 60-70%, while the probability of selling to a new prospect is only 5% to 20%" (Markinblog.com, 2021).
The situation gets even uglier when you realize that getting those new prospects isn't easy, or inexpensive. "It costs up to 7x more to acquire a new customer than to retain an old one" (Markinblog.com, 2021).
So what can you do to build relationships and make your clients feel valued? The answer is Critical Non-Essentials or CNEs.
What Are Critical Non-Essentials?
So, what's a CNE? It's a gesture you make that shows your clients that they are more than just a piggybank to you. Critical Non-Essentials help you show appreciation and build long-term relationships and can range from simple to elaborate.
Some examples of CNEs include:
Birthday cards
Handwritten notes to recognize a milestone in their lives/business or just say "thanks"
Bottles of wine
Beer or chocolate of the month club memberships
Gift baskets
Gourmet meals for the client and their spouse
Tickets to sporting events, concerts, or the theater
Client appreciation events
Each time you recognize a customer with a CNE, you make a deposit into their "emotional bank account". Each deposit shows them that they are important to you and increases the likelihood that you and your business will remain important to them. If you don't have a large budget for CNEs, that's ok.
Small, creative gestures can go a long way, especially when they are genuine and well thought out. Remember, it's all about making your client feel special and appreciated.
If your organization isn't already doing so, it would be a good idea to capture relevant and important information from your clients. Once you have it, create a system to manage your activity just as you would with any other critical aspect of your business.
Some of the information you might want to capture includes:
Their birthday
Names of their spouse, children, and everyone's birthdays
Their wedding and business anniversaries
Favorite sporting teams and sports
Hobbies and leisure activities (i.e., fishing, ballroom dancing)
Favorite food, wine, or alcoholic beverage
Favorite travel spots
Bucket list items
Once you get this information, decide when and how you'll use it to make those meaningful deposits in your client's emotional bank accounts. Make sure the actions you take are genuine and timely. Personalizing the gesture will go a long way toward making it memorable.
By recognizing the value of your clients, you turn them into raving fans. As a result, they become cheerleaders for you and your brand. When that happens, they tend to become a means for more referrals and more business opportunities.
Client satisfaction is key to the long-term success of any business. While some of the suggested CNEs may seem costly, they may only end up being pennies compared to what your client is worth to your business in the long term.