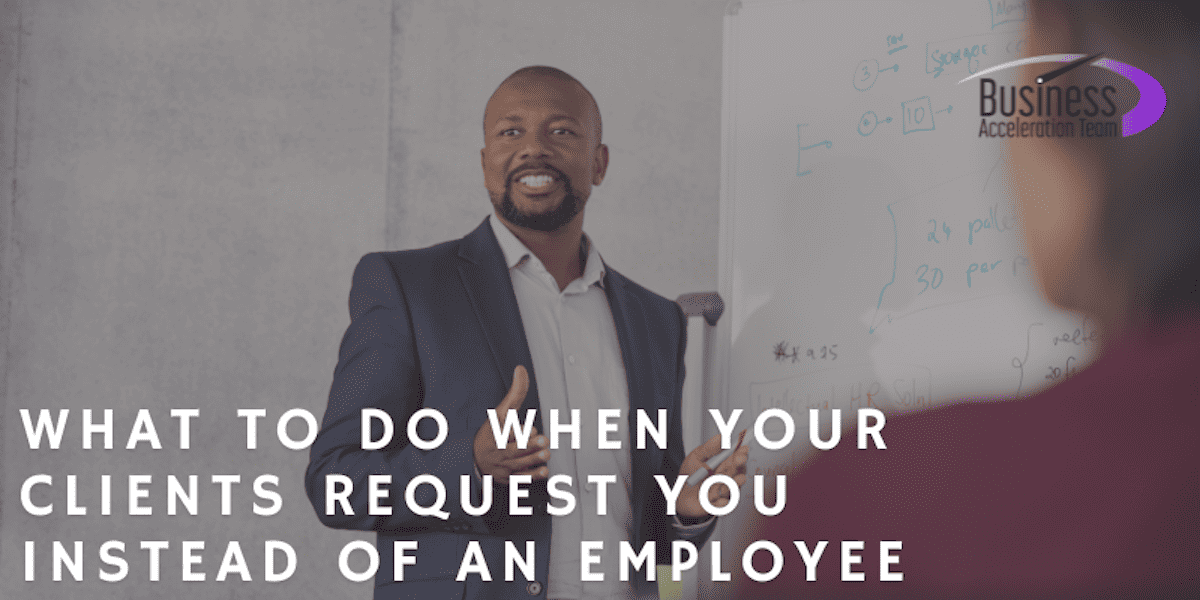 26 Sep

What To Do When Your Clients Request You Instead Of An Employee

Have you ever found yourself in a situation where your clients specifically requested your personal involvement in their accounts? If this rings a bell, you might want to explore effective ways to replicate your dedication and expertise through your employees.

This challenge may seem daunting, but the inspiring journey of Ian Fraser offers valuable insights into achieving just that. Ian Fraser, a former professional golfer, began his business career as a master fitter at TaylorMade Europe, assisting elite golfers in finding the perfect clubs.

However, when he ventured into his own club-fitting business, he soon recognized the critical need to impart his
club-fitting expertise to his team so he could elevate his company beyond a mere lifestyle venture. Fraser's five-step approach to cloning himself is a remarkable testament to his success:
1. Master Your Craft on Someone Else's Dime
Before founding TXG, Fraser had already devoted a significant portion of his life to the game of golf. His journey began at the age of 15, and within just three years, he achieved the status of a scratch golfer.
Subsequently, he spent eight years at TaylorMade Europe, occupying various club-fitting roles where he collaborated with some of the biggest names in the European PGA, including Colin Montgomerie, Gary Woodland, Eduardo Molinari, and Chris Wood.
In his final role with the company, Fraser designed and managed the TaylorMade Performance Lab at Scotland's renowned Turnberry golf resort.
Fraser acknowledges that he was "underpaid" during his time at TaylorMade, but he willingly accepted this for the sake of his vision for TXG, knowing that the insights he was gaining would be instrumental in building his own business.
2. Think Like Nobu
Fraser drew inspiration from the world of fine dining, particularly from the example set by Nobu, the acclaimed five-star restaurant chain partially owned by Robert De Niro. He pointed out that when you dine at any of the 50 Nobu locations worldwide, you never question who the chef is on that particular night.
Nobu has set an unparalleled standard for five-star dining, assuring patrons of a top-notch culinary experience, regardless of the chef or location. Fraser effectively used the Nobu model to communicate his vision to his team of club fitters.
3. Hire for EQ, Not IQ
Fraser's aim was to establish a customer experience-centered company that just happened to specialize in golf club fitting, as opposed to a golf-fitting business with good customer service.
Hence, he prioritized Emotional Intelligence (EQ) over raw Intelligence Quotient (IQ) when hiring TXG staff. In his words, "I can teach you to fit a golf club, but I can't teach you to be a good person."
Fraser introduced a behavioral interview question designed to identify the right candidates. He presented interviewees with a scenario that presented two choices: one that benefited the client and another that yielded short-term gains for the company at the client's expense.
Those who favored short-term profits over doing what was right for the customer were eliminated from consideration.
4. Teach Your Employees Through Osmosis
In most golf-fitting studios, interactions occur privately between the fitter and the player. Fraser, on the other hand, sought to closely observe his apprentices at work and have them learn from his interactions with clients. To facilitate this, he designed his facility with three open-concept bays.
Fraser himself worked from the middle bay, allowing his apprentices to overhear his client interactions, and he could also listen in on their client conversations. Fraser contended that physical proximity to his employees accelerated their learning curve more effectively than any other method he had tried.
5. Broadcast Your Expertise
Fraser established a YouTube channel where he freely shared club-fitting advice. Remarkably, the channel amassed an impressive 216,000 subscribers. Fraser was fully aware that only a small fraction of his subscribers would ever set foot in a TXG store.
However, the channel served as a powerful tool to bolster TXG's reputation as the world's premier club fitter. Additionally, it transformed his marketing strategy from a cost center into a profit generator, with the channel generating over $300,000 annually in advertising revenue, which Fraser reinvested in further growth.
When asked whether he was concerned about revealing his "secret sauce" in the YouTube videos, Fraser made an apt comparison to celebrity chef Gordon Ramsay, who freely shares his recipes in cookbooks without diminishing the allure of his restaurants.
By implementing innovative hiring practices and adopting a creative approach to employee training, Fraser successfully expanded Tour Experience Golf (TXG) into a team of 14 employees.
Simultaneously, he cultivated a dedicated YouTube following of over 200,000 subscribers and achieved revenue exceeding $3 million.
In a noteworthy development in 2022, TXG was acquired by Club Champion, the largest club-fitting company in the United States, boasting more than 100 locations. This acquisition marked a significant milestone in Fraser's remarkable entrepreneurial journey.