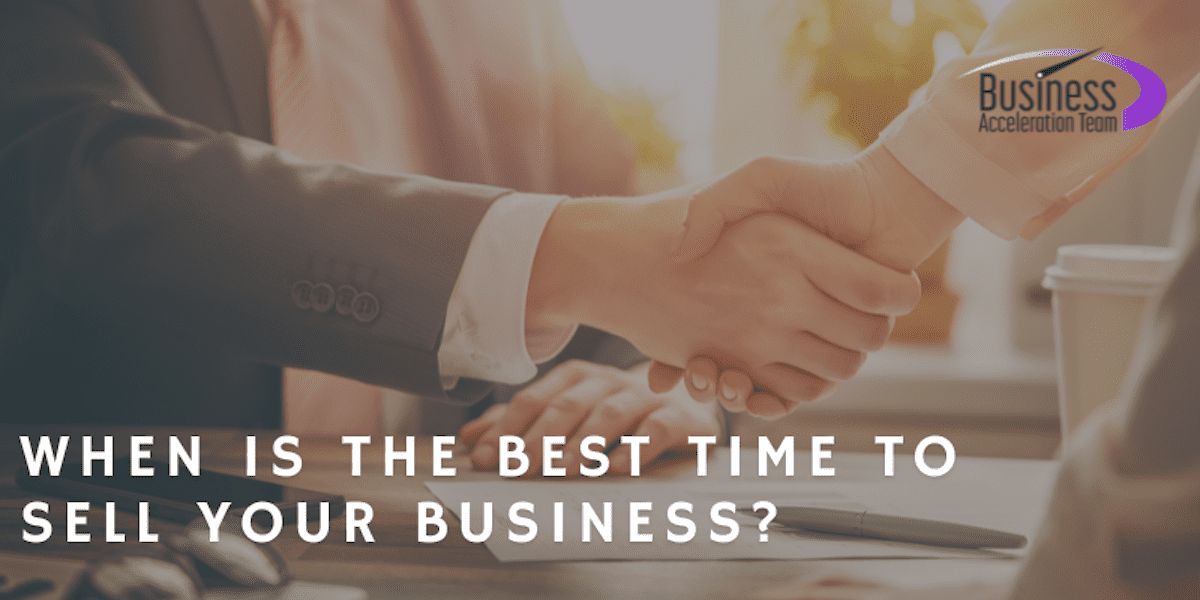 19 Dec

When Is The Best Time To Sell Your Business?

This month, we are sharing another blog post from Eric Knam with ActionCOACH Tulsa. Eric is a certified business coach providing business help, advice, and mentoring services to small and medium-sized businesses. We've watched many of our business colleagues move from working IN their business to working ON their business, enjoying the perks of being the boss as a result of partnering with Eric.

Keep reading to learn more about the best time to sell your business!
When Is The Best Time to Sell Your Business? | Action COACH
Imagine for a moment that you are a successful CEO. You are in your fifties and run a heating and air company that generates eight million dollars in revenue and more than one million dollars in profit before tax.
Despite the fact that you are obviously tired and headed full speed into burnout, you've decided that you want to wait another five to seven years before you sell the business so you can "sell at the peak of the next economic cycle".
At face value, this thought process seems to make sense. If you ask a professional in mergers and acquisitions, they will tell you that an economic cycle can impact valuations by up to "two turns". That means a business selling for five times earnings at the top of an economic cycle may go for as low as three times earnings during a low point.
Here's the problem with that. When you sell your business, you must do something with the money you receive. Usually, that means buying into another asset class that is being similarly impacted by the same economy.
As an example, let's pretend that in the early 2000's you had a business generating $100,000 in pre-tax profit. Your industry typically trades between three times earnings and five times earnings, depending on where things are in the economic cycle.
Now, let's assume, you waited patiently on the sideline until the economy peaked, then sold your business for $500,000 (five times your pre-tax profit) in October 2007. You took your $500,000 and bought into a Dow Jones index fund when it was trading above 14,000.
Eighteen months later – after the Dow Jones had dropped to 6,547.05 – you were left with less than half of your money.
Even though you timed things perfectly, by waiting for the economic peak, by March 9, 2009, you would have effectively sold your business for less than 2.5 times earnings.
The flip side of this scenario is also true. Let's imagine you "waited too long" and ended up selling the same business in March 2009. Since the sale occurred during the lowest possible point in the economic cycle, you only got three times earnings: $300,000.
That doesn't seem like a very good deal, does it? Believe it or not, this is actually a better scenario than the one above because you were able to realize 20% more in profits than if you'd sold at the peak and bought an index fund at the top of the market.
It's no different than selling your house when the real estate market is booming. Unless you are planning to downsize, you'll be taking your profits and putting them into the same thriving market. This explains why trying to time the sale of your business on external economic cycles is usually a waste of your time and energy.
External vs. Internal Economic Cycles
Here's another way to look at the timing of selling your business. Consider the internal economic factors of your business: employees are happy, revenue and profits are on an upward trend, there is still a lot of market share for an acquirer to capture.
Are they all pointing in the right direction? If so, this could be the perfect time to look at selling your business. Why? When internal economic factors are pointing up, your business has a better chance of fetching you a price at the top end of what the market is paying for similar businesses.
This means that, for good or bad, you'll have additional newfound cash that you can use to buy into the same economic market you're selling out of.