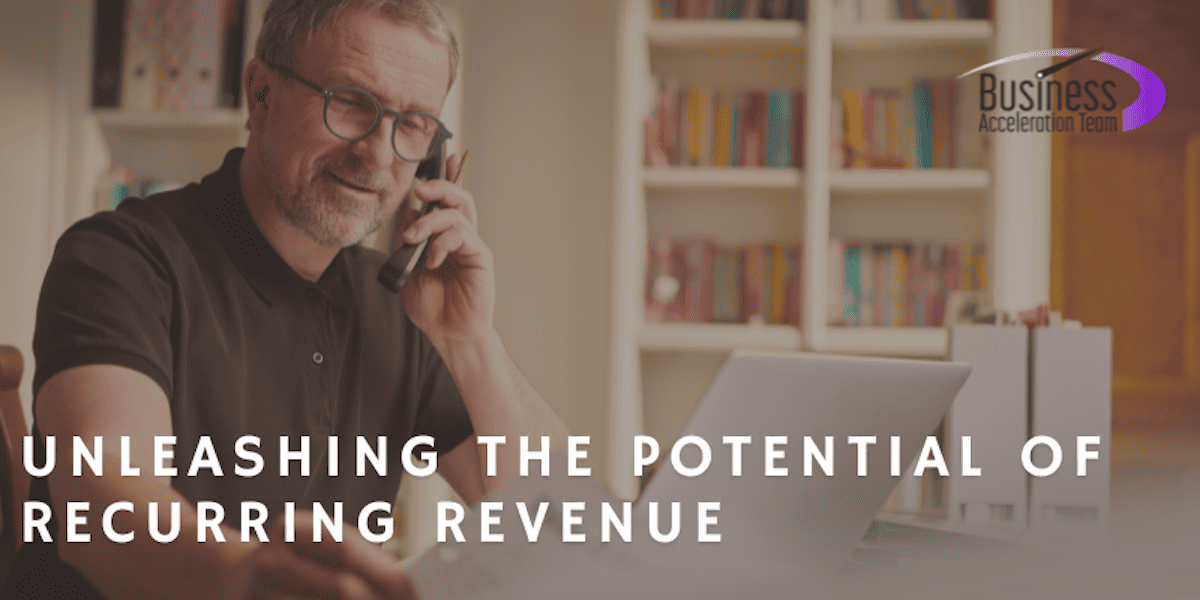 27 Jun

Unleashing the Potential of Recurring Revenue

Last month, Darden, the company behind the Olive Garden restaurant chain, made headlines with its acquisition of Ruth's Chris, the renowned American steakhouse, for a staggering $715 million.

This purchase implied a valuation of approximately one times Ruth's Chris' annual revenue from the previous year or around ten times their adjusted EBITDA for 2022. While this was a significant achievement for a large corporation, it also highlighted how Ruth's Chris' lack of recurring revenue had potentially hindered its value.
Breaking the Myth: Recurring Revenue Beyond Software
Recurring revenue is often thought to be exclusive to software companies. However, it is crucial to recognize that traditional businesses can also tap into the advantages of creating recurring income streams.
A prime example is Gamal Codner, the visionary founder of Fresh Heritage, a brand specializing in men's grooming products that initially centered around beard oil for pre-shave softening.
Codner faced a challenge when he realized that acquiring customers through Facebook ads, at a cost of roughly $15 per customer, left little room for profitability with an average order value of $30.
Understanding the need for a change, Codner decided to diversify his product line and introduce the VIP Club – a subscription program that offered automatic shipments of Fresh Heritage products.
Going Beyond Discounts: A Subscription Program with a Purpose
Codner conducted an extensive survey involving approximately 500 customers, leading to a remarkable discovery. He found that his target customers were less enticed by discounts and more drawn to the idea of becoming alpha males in their respective fields.
This aligns perfectly with Fresh Heritage's goal of building a unique brand that specifically appeals to growth-oriented men, those who prioritize boosting their self-confidence.
To incentivize men to join the VIP program, Codner moved beyond conventional financial incentives. He strategically fostered a sense of community and belonging by emphasizing membership in a group of like-minded individuals dedicated to personal excellence.
Quarterly local meetups were established, offering valuable opportunities for members to network and share experiences. These empowering gatherings swiftly became a driving force, attracting new customers to the remarkable experience provided by Fresh Heritage's VIP program.
Converting Customers into Loyal Subscribers
Continuing his customer acquisition efforts through Facebook advertising, Codner successfully converted them into loyal subscribers, significantly increasing their lifetime value. The average order value skyrocketed to over $60, and with the subscription program attracting 3,000 members, Fresh Heritage's EBITDA margin soared to an impressive 40%.
This exceptional achievement caught the attention of BRANDED, an aggregator of digitally native direct-to-consumer brands, who presented Codner with an irresistible acquisition offer in 2022.
Unlocking the Value of Recurring Revenue
The story of Fresh Heritage exemplifies how incorporating recurring revenue streams can greatly enhance the value of a business. As demonstrated, one does not need to operate in the software industry to create a steady income stream.
By understanding what your customers desire on an ongoing basis, you can uncover the foundation for a compelling subscription offering that fuels the growth and profitability of your enterprise.